Pictured below is one of our boats for transfers between Inhaca and Maputo, Inhaca to Santa Maria, Inhaca to the Portugese Island, Deep Sea Fishing charters, sunset rides and fun boat rides.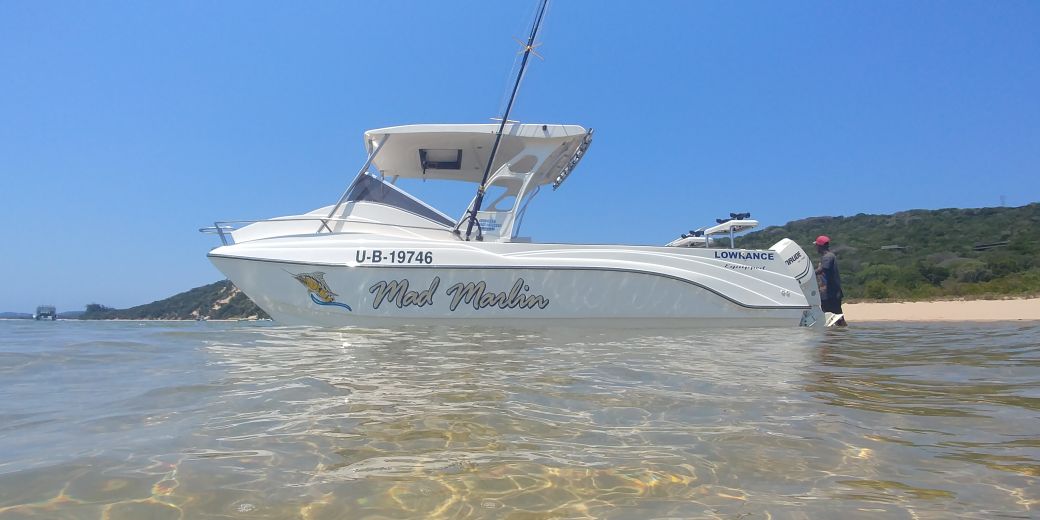 We have an extensive range of activities available to our visitors which include, but are not limited to:
Fishing charters, Fly Fishing, Surf fishing, Bill fishing, Snorkeling, Scuba Diving, Hiking, Trips to Portuguese Island, Lighthouse and Santa Maria, Kayaking, visit the museum, island tours and soooo much more…..
Services available:
Fishing charters

Bill Fishing

Boat charters (from Maputo to Santa Maria, Maputo to Inhaca etc.)

Sundowners at Portuguese island

Tours to Lighthouse and Turtle beach.

Museum tour

Diving (including beginners)

Snorkeling

Restaurants

Cairo shop/fresh food market

Fuel station for your private boat.

Hospital on Inhaca Island

Airport.
Experience a magical and breathtaking flight over Inhaca and Portugueses Islands. Air Charters can be arranged on Inhaca Island
Deap sea fisherman will be excited to hear that some of the worlds best big-game fishing, is found here. Trips out to sea on well equipped fishing boats can be organised, and with the island claiming a few world records for various shark and fish catches ... you are bound to find yourself cooking some delicious fish fillet on the braai later that evening. Marlin, Sailfish, Giant Kingfish, Dorado, Wahoo, Sierra, Barracuda, Yellow fin tuna, Barracuda and tuna are some of the most popular Big-game fish you could be angling for!
Located at the Northern tip of Inhaca Island is the Inhaca Lighthouse. Boat excursions can take you between Inhaca and the Portuguese Island where you can from there, trek about 3km to the top of the hill where Inhaca Lighthouse stands tall. For a small donation, the Lighthouse keeper will take you to the top of the Lighthouse that boast stunning 360 degree views of the Ocean and Islands!
Remains of the M/S Tecumseh Ship which shipwrecked on Inhaca Island in 1932 can be seen from the lighthouse or beach.
Ponta Torres is a protected coral reef reserve and is situated at South point of Inhaca Island. There are beautiful coral reefs which are perfect for snorkeling. Boat excursions around the west coast of Inhaca Island is highly recommended costing only approx. R50 (200mt) - prices are subject to change.
2km off Inhaca Island is the very popular and famous island Ilha dos portugueses (Portuguese Island). In the colonial days, the Island was a trading post for Ivory and used to be called Elephant Island. Ruins of a once leper colony can be found in the centre of the Island.
As you may have know already, cruise ships often travel and anchor very close by the Portuguese Island and Inhaca Island.
Beaches are beautiful and North of the Island are shallow waters, sandbars and a stunning Lagoon.
Inhaca's waters treasure world class diving sites and is known to have one the best diving spots in Mozambique! A huge Coral reef, called the Baixa Danea is home to Manta Rays, Hammer Heads Sharks, Potato Bass, Brindle Bass, Leatherback turtles, Loggerhead turtles, Olove Ridley turtles and much so much more tropical marine life. The site Boasts a coral covered shipwreck of an old Steam Cargo Ship sunk in 1942 by a German U-Boat. Drop-offs, overhanging Coral, gaping caves and swim throughs characterises the Baixa Danea Coral Reef. A must for all Diving Enthusiasts!
SNORKELING IN THE 'CORAL GARDENS'
Only a short boat trip with snorkels and Goggles will take you to an amazing shallow coral reef called the Coral Gardens or Barreira Vermelha. Staghorn Coral, Brain Coral, Plate Coral and more, give home to a large variety of tropical fish!
WHALE WATCHING IN INHACA ISLAND
Visitors will have the privilege to do some whale watching between the months of July and December. Humpback Whales are often spotted and occassionally Southern Rite Whales. if you are lucky, you may even spot the rare Humpback Dolphin specie.
Whale Watching Boat trips can be arranged on the Island.